Big Spaceship presents an evening of pummeling sonic ritual in the vein of: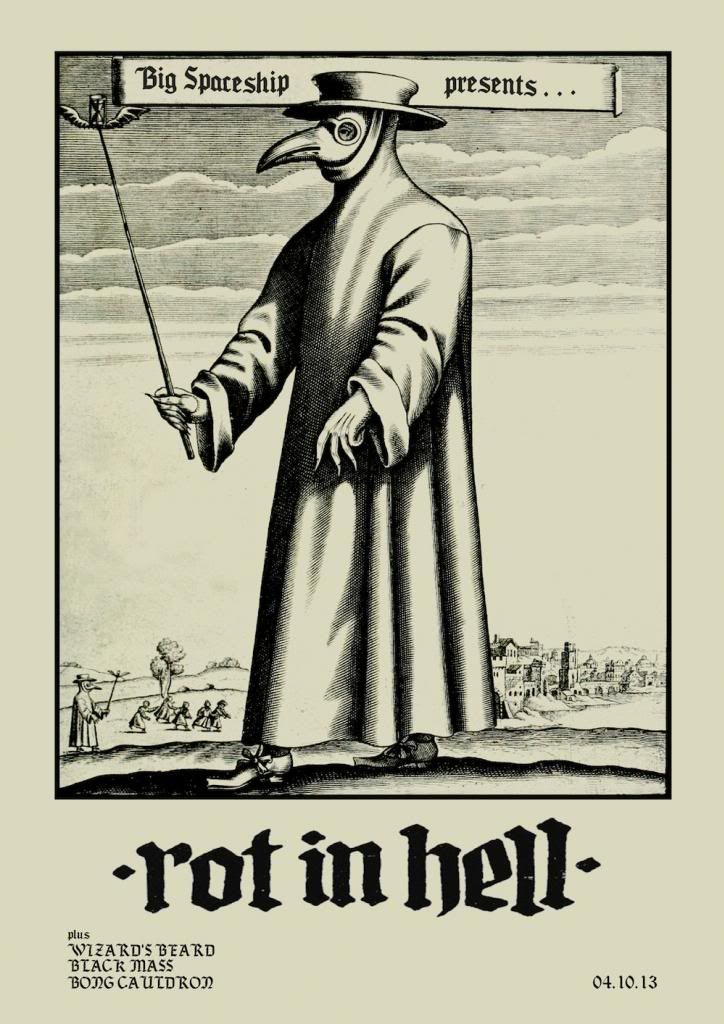 ROT IN HELL
Rot In Hell are a brutally raw and unrelenting UK punk/hardcore band. They epitomize the "Holy Terror" / Cleveland sound, popularized by bands like Integrity and Ringworm, and inject their own mutation into the festering contemporary hardcore/punk cesspool.
"As Pearls Before Swine" is the first proper full length effort for Rot In Hell. From the first moments of haunting feedback in the opener "Fulminate of Mercury", it's apparent that something wicked has been unfurled. Just two minutes in, Rot In Hell sonically rips their world wide open, galloping forth into musical blackness. Songs like "Traitor's Gate" and "Lucius Ferce" are played with such violent ferocity it seems as though the band are simply collapsing in on themselves. The frenzied attack subsides slightly with the grim instrumental "Darkness Calls", acting as the foreboding eye of their storm. However the bloodbath soon kicks off again in songs like "Behavioral Resistance MMIX" and "Coyotenia". All of them leading us to a Hellmouth of a closer in their sprawling "Twilight Tongues".
Without a doubt, Rot In Hell are truly as grim as they come. And their "As Pearls Before Swine" proves that there is still something wild, untamable, and truly dangerous lurking in the shadows of today's hardcore/punk community. It's time to welcome their brand of darkness with open arms.
http://rotinhellmmxii.tumblr.com/
http://rotinhell.bandcamp.com/
WIZARD'S BEARD
Sludge Doom from Leeds now with two bassists.
'They are fucking heavy, and fucking nasty, and that's it. You get no break from it, no pretty parts, no clean-vocal melodic excursions, no indulgent soloing.'
- The Obelisk
http://wizardsbeard.bandcamp.com/
https://www.facebook.com/WizardsBeard
BLACK MASS
Death / Grind band from Leeds.
https://www.facebook.com/Blackestmass
http://blackmassband.tumblr.com/
BONG CAULDRON
Stoner Doom from Leeds.
http://www.facebook.com/bongcauldron
http://resolvefilm.co.uk/superhot-sessions-002-bong-cauldron/
Friday 4th October
Venue tbc
LEEDS