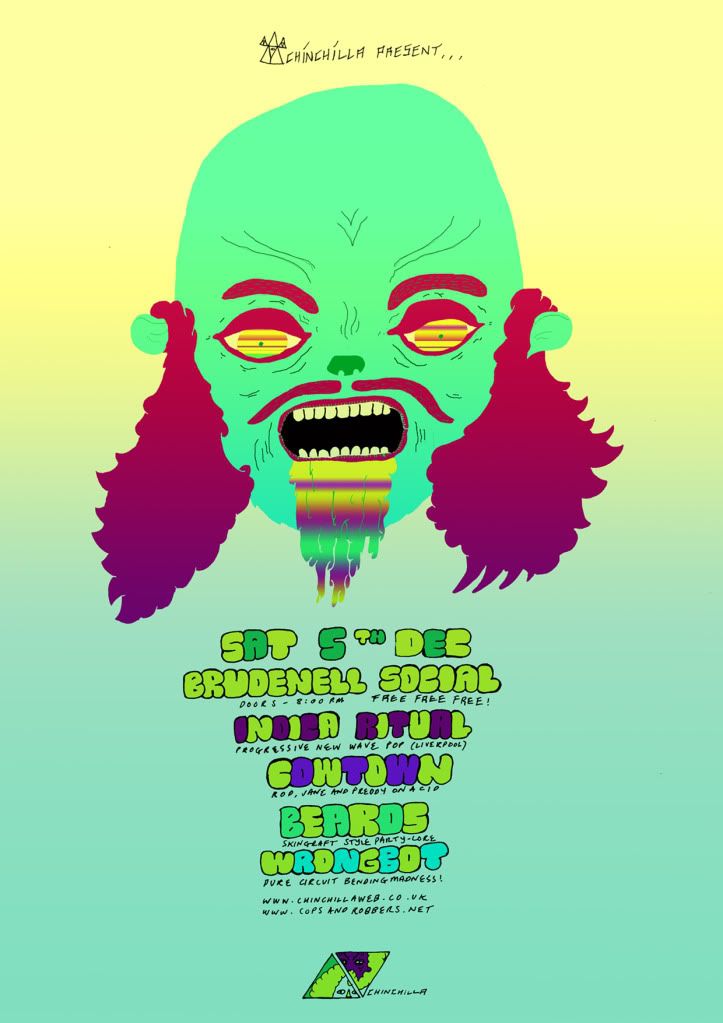 BABI_CHIN_FREE (A.K.A BABI_CHIN_III)
SATURDAY 5TH DECEMBER
LIVE AT THE BRUDENELL SOCIAL CLUB
8 P.M DOORS // TOTALLY FREE YO!
INDICA RITUAL
Five cheeky chappies from Liverpool armed with an array of brightly coloured shirts and pants, INDICA RITUAL will thrill and surprise those who are lucky enough to come within a earshot of the bands sweet riffage. Featuring members of A.P.a.T.T and STIG NOISE SOUND SYSTEM expect Of Montreal meets Devo with the occasional Duran Duran-ism.
COWTOWN
They promised NOT to play anymore shows until spring next year but....you know how it is....these freaky, knit wear loving douche bags just love to play. Rod, Jane and Freddy play Melt Banana.....on acid.....in space....orbiting mars...
BEARDS
Highly evolved costume design and frickin sweet tunes, BEARDS play noise rock infused dance music with dashes of funkadelia. Think Arab on radar, Erase Errata and Numbers and then think again....
WRONGBOT
The sound you'd hear if two bonged up electronics nerds came into your house and started prodding all your musical equipment with soldering irons and VU meters. Twisted circuit bending genius!!!!