What Happened presents
API UIZ
Amazing French three-piece who accelerate through new high gears of frayed guitar noodle and collapsing, crashing grooves – chaotic, experimental and flailing fun all at once.
ARNAUD RIVIÈRE
Fierce, rhythmic squall and clunk wrought from piles of maimed hi-fi equipment, scrap metal and homespun electricry. From Paris.
THE MICHAEL FLOWER BAND
Buzzing drones, Appalachian/psych ragas and many strange threads in between from Vibracathedral Orchestra member and Chris Corsano collaborator.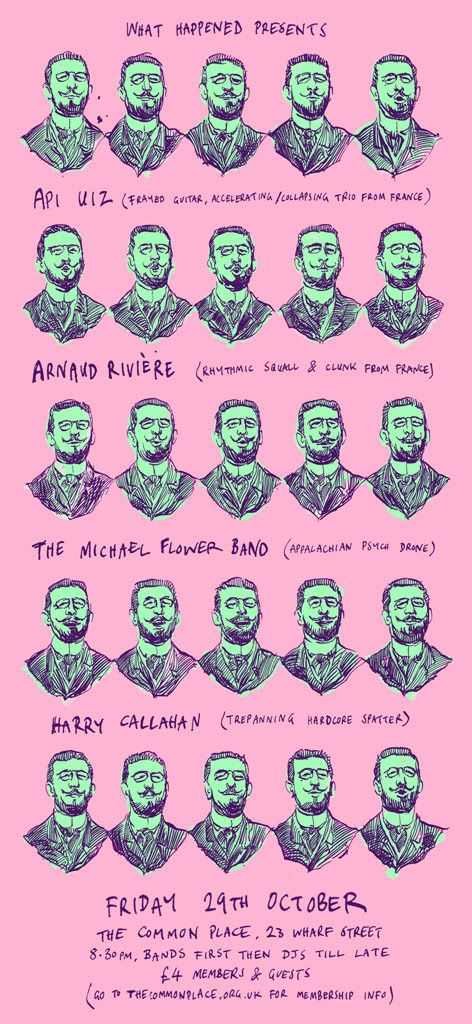 HARRY CALLAHAN
Brutal spatterings of trepanning drums and guitar with demented antipodean yelling out front. featuring members of Shoot the Bastard and Executive Legs.
Bands first then DJs and dancing till late with the usual cheap booze available from The Common Place bar.
Any profits will benefit The Common place and Cops and Robbers.
The Common Place is a members club. Guests must be signed by a member at the door. Joining The Common Place costs just £2 per year. www.thecommonplace.org.uk/membership.html
---